According to the 2010 U.S. Census, almost 20% of American babies under age one are enrolled in daycare facilities; for children ages one to two the number is as high as 27%. Many daycares nationwide excel at providing innovative educational programs designed to give little ones an academic and developmental advantage in the areas of communication, motor skills and social skills. The right educational resources, combined with well-trained professionals, usually result in well-adjusted babies and toddlers who display a great capacity to engage with their peers and communicate specific needs to their caregivers.
The Baby Sign Language Kits & resources are currently in use in numerous accredited daycares and early childhood development centers around the globe. In partnership with motivated parents who want the best for their babies, they ensure each baby is well-equipped to communicate during the pre-verbal stage.
What Parents Are Saying:
"I received The Baby Sign Language Deluxe Kit as part of the welcome package provided by my daycare. I am a working mom and my son Weston started Daycare shortly after he turned three months. His daycare curriculum includes baby sign language as a way to help our babies be less frustrated communicating basic things like thirst or hunger.
My boy is now one year old and can sign about ten signs. We love signing and singing with him. The only thing I regret is that the kit that I received did not have all the videos. I had to buy all the videos separately. As a mom that works the DVDs have been extra useful for car rides. If you are buying the kit for your baby go ahead and upgrade to the one that has all the DVDS and all the books. You won't regret it."
Jessi L
"Our daycare teaches babies how to sign from day one. My son is now 10 months old and can sign more, milk, fan, sleep, mom, dad, dog and understands the sign for quiet. As a working mom baby sign language has been a life-saver. John is less prone to emotional meltdowns, and we are able to meet his needs. We are using the flash cards at home, and he loves pointing to the pictures of his favorite animals"
Becca
The Benefits of Baby Sign Language in Early Childhood Education and Daycare Centers
Baby sign language reduces frustration by equipping the pre-verbal child to communicate basic needs like food, water or favorite objects.
Babies attending day care transition with ease and have the confidence of continuity when they know a sign will have a similar response at home or with caregivers.
Baby sign language is conducive to a quieter, more cooperative classroom environment with toddlers.
Baby sign language improves fine motor skills.
Baby sign language is proven to improve IQ and facilitate multilingualism later in life.
Baby sign language helps with the development of self-esteem.
Baby sign language is helpful in a therapeutic context, to provide a means for augmentative communication for little ones with speech delays.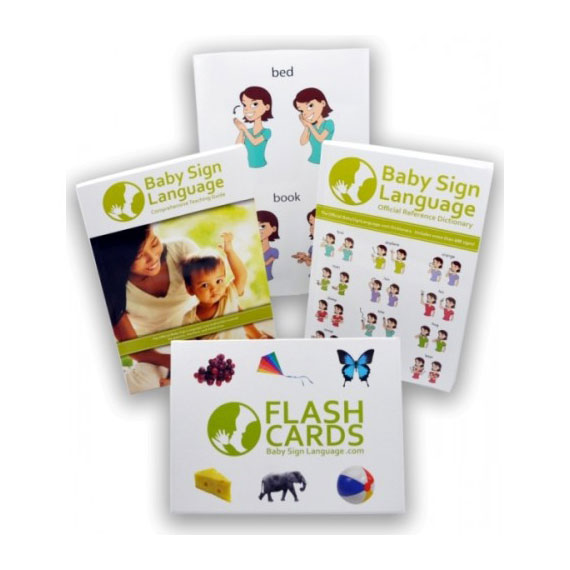 Baby Sign Language Kits, Materials and Educational Resources for Daycares
In order to help daycares, Montessori's and early child development centers better serve their students, we offer a discounted price for bulk purchases and can work with your center to design custom kits that combine any of the materials available at the Baby Sign Language store. We are able to provide purchase orders and process tax exempt forms. Our pricing for educational institutions is available worldwide. Contact us at [email protected] or [email protected] to obtain more details.
We also extend our bulk pricing to organizations such as clinics and institutes serving babies and toddlers with atypical speech delays. Many speech pathologists currently use our resources in tandem with other therapeutic approaches.

Frequently Asked Questions About Baby Sign Language Resources for Educators and Daycares
At what age should babies begin to learn baby sign language?
Just like we expose babies to speech from birth, they can also be exposed to sign language as early as their first month. Keep in mind that they will be most receptive only after they are over five months old. By the time a baby turns one, if he or she has been consistently exposed to baby sign language, you can expect three to eight recognizable signs.
What are the most appropriate and useful signs for a collective setting?
It is best to stick to the basics both at care and at home. We have selected the most common signs based on the needs and interactions of pre-verbal children and have prepared instructional material available here.
How does your Bulk Discount work?
We have a special pricing structure available for all our resources with the exception of the Baby Signing Time Collection. Most daycares and early child development centers currently using our program opt for the Standard Baby Sign Language Kit, featuring the top four resources for teaching baby sign language in the classroom environment and reinforcing vocabulary at home. The Standard Kit contains:
Flash Cards – 52 sturdy board (4×6 inches) flash cards, covering a variety of basic signs. The flash cards allow you to teach words, such as animal names, that Baby is not exposed to in everyday life. The face of each flash card shows the word and image for the child. The back of the card shows how the sign is performed, a handy reminder for the adult.
BSL Guide Book – shows you how to teach your child how to sign. The book begins with a Quick Start Guide that will teach you your first signs and have you ready to sign in 30 minutes. As Baby progresses, you can delve into more advanced topics like combining signs to make phrases, using props, and transitioning to speech.
Signing Dictionary – contains over 600 signs including the most common words, the alphabet, and numbers. The dictionary helps you expand your child's vocabulary, and has the breadth of coverage that lets you follow your child's interests. Each sign is illustrated with two diagrams, showing you the starting position, the ending position, and intermediate motion.
Wall Chart – the 24" x 36" chart includes 22 basic signs, and makes a handy reminder for caregivers. The Baby Sign Language Wall Chart covers basic signs like eat, drink, and sleep. Hang the poster in Baby's Nursery to help babysitters or other caregivers learn and decode the most commonly used baby signs.
Alternatively, you have the option to purchase each of these items individually in bulk. In the classroom setting you may want to order a single dictionary for the teacher and one flash card set for every student.
Are the Baby Sign Language products guaranteed?
Absolutely. We are confident the kits will enhance the communication skills of your babies and set the stage for happy interactions. If for any reason you are not satisfied with your purchase, we will happily issue a refund. No strings attached.
Contact our sales department at [email protected] or [email protected]. To learn more about the products we offer visit our baby sign language store.