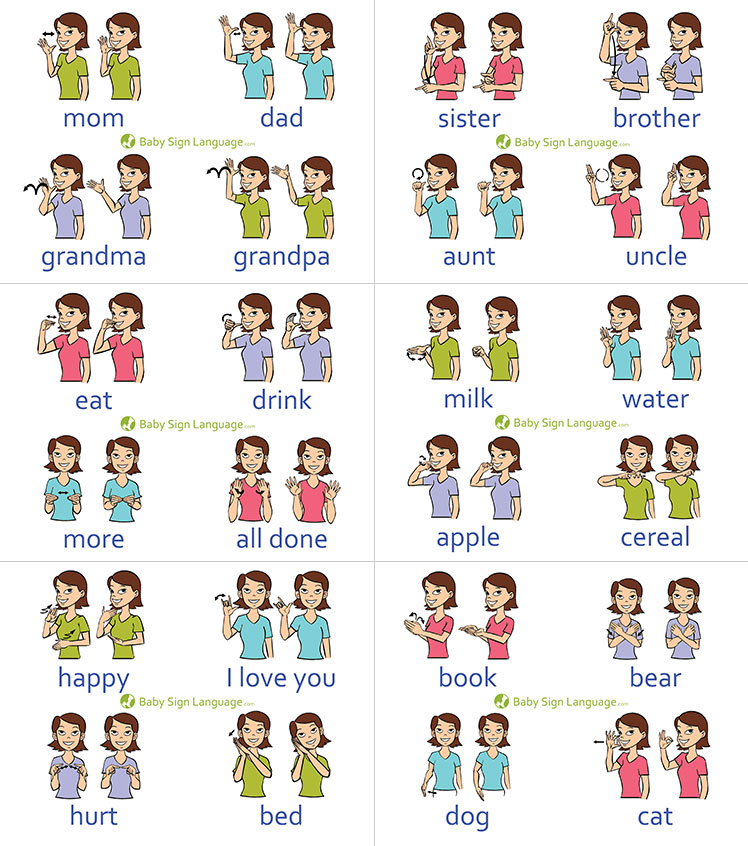 Baby Sign Language Chart (self-print version)
The printable baby sign language chart helps you learn the basic signs so that you can in turn teach your baby. The free baby sign language chart is made up of six separate sheets of paper that are each printed out and then taped together to make the final chart. Pin the chart to a wall or your refrigerator and before you know it you will be signing like a pro!
The wall chart is particularly useful as a reminder for caregivers or babysitters who may be seeing the signs for the first time or just need a reminder.
Want a Professionally Printed Chart?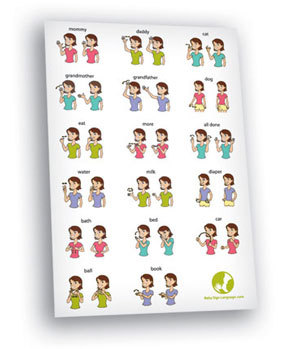 The Wall Chart gives family members an easy way to learn baby sign language. It also helps babysitters, grandparents, and other caregivers understand baby's signing when you are away.
17 Basic Signs – mommy, daddy, cat, grandmother, grandfather, dog, cat, more, all done, water, milk, diaper, bath, bed, car, ball, and book.
High Quality Construction – printed on thick stock with a glossy wipe clean finish.
Large Format – 24″ x 36″
Get The Kit & Sign Smarter

The Baby Sign Language Kits, bundle together everything you need to get started with signing in one box, at a steep discount. The premium kit includes: (1) Baby Sign Language DVDs & CDs, (2) Baby Sign Language Guide Book; (3) Baby Sign Language Dictionary: (4) Baby Sign Language Flash Cards; and (5) Baby Sign Language Wall Chart.
Signing Time DVDs: Learning Made Fun
Baby Sign Language DVDs teach your baby to sign while keeping them entertained. This Emmy Award nominated program, teaches all the basics in a fun musical format. Your baby will learn:
Utility Signs – skip tantrums and understand when they are too hot, too cold, or need a diaper change
Family Signs – greet grandma and grandpa
Flash Cards: Expand Vocabulary
Flash Cards expand your baby's signing vocabulary giving them more ways to communicate and express their creativity.
52 Cards – add family, home, and animal signs
Illustrated – pictures on the front, the sign on the reserve
Durable – board mounted & includes a hard case for storage
Get The Kit & Sign Smarter

Teaching Guide: Get Faster Results
Teaching Guide our best information on teaching Baby Sign Language. Topics covered include
Pepperberg Method – teach signs twice as fast
Phrases – combining signs to make simple phrases
Transition to Speech – transition to talking
Signing Dictionary: 600 Signs at Your Fingertips
Signing Dictionary puts over 600 signs at your fingertips. Always have the right sign available to match your child's interest.
600 Signs – have the right sign available when you need it
Illustrated – each sign includes two diagrams with both starting and ending positions
Letters & Numbers – start counting and alphabet games
Wall Chart: Reminder for Caregivers
Wall Chart provides a quick reminder of the basic signs. Let babysitters, grandparents, and other caregivers understand the signs.
14 Signs – all the basic signs
Glossy Coating – wipe clean waterproof coating
24″ x 36″ – large format poster

Get The Kit & Sign Smarter