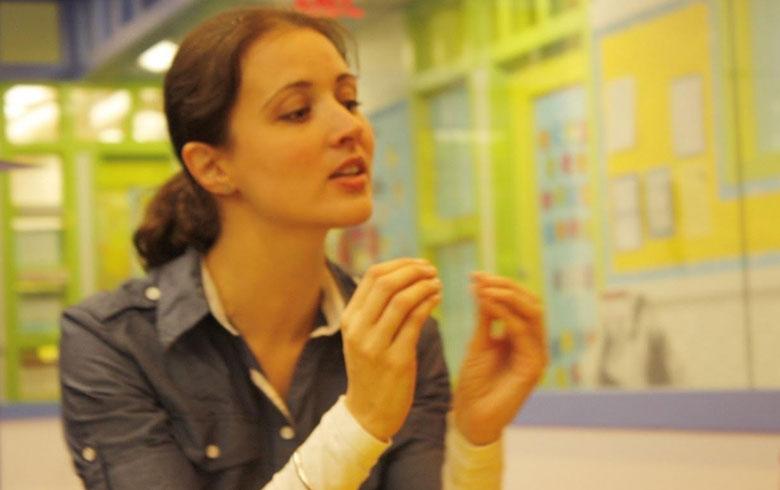 Melissa van Wijk
New York City
Melissa van Wijk has been teaching babies and parents how to bond through signing for almost a decade. Countless babies in Manhattan and surrounding boroughs have learned about the joys of signing and the benefits of early pre-verbal communications thanks to Melissa's engaging teaching style and practical one-off workshops. Melissa holds a Master's in Dance Education from New York University, 5 NYS Teaching Certifications, and has studied American Sign Language.
In Melissa's Words
"Originally I studied American Sign Language in graduate school because I wanted to teach d/Deaf students. I didn't think about using sign language outside that context until I was on a trampoline one day with an 11-month-old and made a spur of the moment decision to use the sign for 'Jump' as a visual aid. That's when I realized what a helpful tool signs could be for preverbal, hearing infants. Since then I have been working to make signing with babies as easy-to-learn as possible.
My background is in dance, and I teach dance working primarily with special needs children in public schools throughout New York. Over the years I have taught in Early Childhood, Nursery, After School, and K-12 for organizations like New York City Ballet and The Children's Aid Society. My students range in age from 7 months old to age 21, and include wheel chair drivers, students with autism, learning disabilities, intellectual disabilities, gifted students, and many others. Currently I am developing a not-for-profit Dance organization dedicated to engaging Students With Disabilities in Dance and Production and creating job opportunities for them in the field of dance post-graduation. I also volunteer with my certified therapy dog, Easter, at nursing homes which is a ton of fun."
Frequently Asked Questions
How Often Do Classes Begin?
Melissa hosts an average of two sessions per month. She happily arranges for privately held sessions or workshops tailored to the specific needs of your group. 
How Much Will I Pay for Baby Sign Language Classes?
One-off baby sign language workshops start at $50. Parents love the convenience of learning everything they need to get started in one fun workshop. Others prefer Melissa's five-class introduction to baby sign language. You can also schedule a webcam session where Melissa will join you in the comfort of your own home and guide you and your baby as you learn the best strategies for teaching and learning baby sign language.
Does Melissa Teach Advanced Baby Sign Language Classes?
If you have a signing superstar Melissa has experience taking parents to the next level and helping them get even more creative with signs and songs. She is also adept at helping families with a speech-delayed child express him or herself effectively through signs. 
How to Contact Melissa?
You may contact Melissa to inquire about upcoming classes at [email protected]
What Kind of Materials Does Melissa Use?
Melissa provides her students with a variety of digital and printed materials. For families not based in New York, she has created a series of free online tutorial videos designed to teach you everything you need to sign successfully with your infant. 

Contact Melissa