The Baby Sign Language Flash Cards are a valuable teaching aide to grow your child's vocabulary. Each of the 600 flash cards shows the word, an illustration, and the corresponding sign. Download and print from your home computer.
Want Professionally Printed Flash Cards?
The Flash Cards help you extend your baby's vocabulary. Use the flash cards to teach words that you don't encounter in everyday life, such as giraffe and elephant. And use the flash cards to help baby generalize, so he learns that the word dog applies to many different dogs, and not just his pet.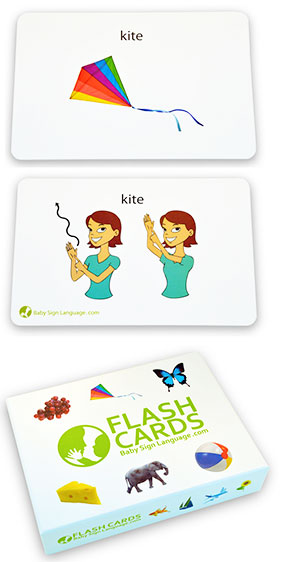 High Quality Construction – printed on thick board in large format (4″ x 6″) for durability. These cards are built to be well loved!
True Life Images – each flash card has the word and a vivid real-life image isolated on a white background.
Signing Reminder – the reverse of each card contains a diagram of the sign, with the starting position and the ending position for the sign along with arrows showing the motion.
Versatile – these flash cards will find use beyond signing. Use them to teach reading and writing, and grouping games.
52 Basic Signs – airplane, apple, baby, ball, banana, bear, bird, boat, book, bread, buy, bunny, butterfly, car, cat, cereal, cheese, chicken, clothes, cow, diaper, dog, duck, egg, elephant, fan, fish, flower, frog, giraffe, grapes, hat, horse, keys, kite, lion, monkey, mouse, orange, pig, potty, sheep, shoes, slide, snake, swing, tiger, toothbrush, train, tree, turtle, and water.
Video: Baby Sign Language Flash Cards